Fun Camera for Kids and Teens

A new fun camera with live drawing functionalty just for kids and teens!

Features:
* Simple, elegant and intuitive controls
* Fast and fun to use
* Many great themes and templates provided
* Live drawing with many fun drawing tools
* Save the image to your gallery, share it in Facebook or send it with email

Handy Magnifier & Monocular

Here comes one of the best magnifier applications that will magically turn your Android device into a real magnifying glass! This portable helper is so useful we are sure that you will definitely love it! Elegantly designed and many functionalities are nicely added. App is tested on phones and tablets (including Galaxy Tab) with different large HD screen size.
Live Wallpapers for Android 2.1+
We have now beautiful live wallpapers for Android 2.1 (eclair) + users. They are all interactive and very fun to play with: You can swipe your finger on the screen to create new sparkles and watch them gently float around to mesmerize you! You will surely love them!
Let us know if you have any request, comments, or questions about the apps in the marketplace!
Please note that the hyperlinks will ONLY work in an Android device!
Do you need a specialized app for your personal usage or for a company? Let us know. Contact us at omt66@yahoo.com
Campfire HD App (requires Adobe AIR):
Is it cold outside? This app is very good simply whenever you want some virtual fire on your Android device or on your TV (your phone should be capable of connecting to an external system since a TV connection required)!
No, it's not literally going to warm you up, or melt the surrounding ice, but it will cheer you and your friends up by creating a nice and cosy environment :)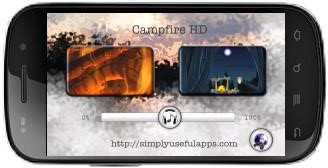 Our First Game App in Android Market: Pop the Bubbles
Here comes one of the best casual bubble popping game for all ages. Initially designed for kids, nevertheless, it has captured the attention of the big ones as well!
* 3 bubbles to choose from
* swipe your fingers to create
* touch them to pop
* sparkle animation
* awesome graphics
* stop animation
Please use your Android phone and go to the Android Market, and search for pop the bubbles. If you are using your android device, you can click to the images below!
By the way, for some reason, if you are not fully satisfied with this little game, we will refund you through Google checkout, no questions asked!
Enjoy :)